I want to start by saying thank you again to everyone who made the effort to sign up to stay in touch. More than anything, this occasional e-letter is about sharing design/architecture discoveries with past clients and friends who like to remodel, AKA you.
At the least, you might find them informational, perhaps inspirational, but possibly even applicable to an idea that's been brewing in your head that you haven't yet started and can tuck away into your "maybe someday" file.
This topic for this second e-letter was inspired by a recent reunion where I realized that there are many little "basic" things I've learned over time about cabinetry that I assumed every builder/designer tells their clients. From our conversations, I came to realize that's often not the case. I then thought about what that means for my past clients as well, and realized that not every project has involved custom cabinetry, so why not put it out there for anyone to use in a future remodel or share with your kids or friends who may be remodeling now before they get too far down the road
Not every "door" cabinet needs a top drawer (NOTE lower left and right cabinets below). The more utensil drawers we have, the harder it is to find anything (and we ALL expand to fill whatever space we have). Having an extra 6" in shelf height in your base cabinets is helpful for mini appliances like blenders, stand-up waffle makers (my favorite!), and Cuisinarts, plus extra tall pots.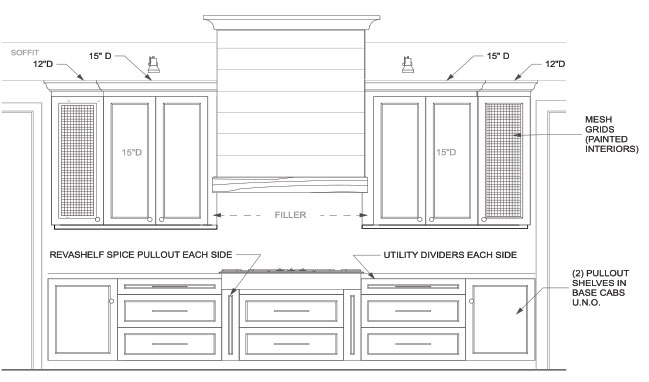 And don't let your contractor put false panels where you have a sink (LEFT). Insist on full-height doors (RIGHT) and hide that panel behind the doors. It looks SO much nicer and you don't have to agonize over whether you should put a handle on it.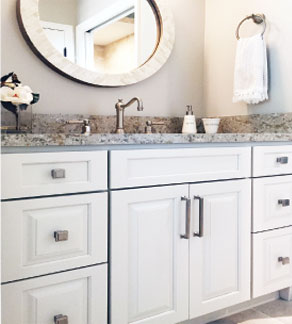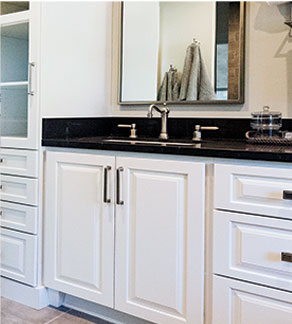 Mentioned above, I specify that almost all single-door base cabinets have two pull-outs. The little space you give up in width, you more than gain in accessibility to things at the back. You can also put them in double door cabinets, you just need to open both doors to pull them out. And always ask for FULL extension glides.
In wall pantries, you can install pull-outs up to about 4' in height off the floor, but specify heavy duty glides where you're putting canned goods or heavy items.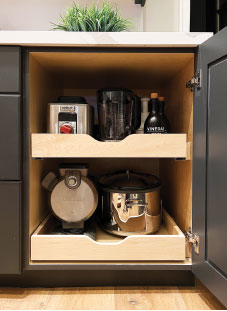 Growing up, our parents stuffed the baking sheets, cutting boards and cooling racks into a lower cabinet or in the bottom drawer of the stove, so we think that's where they should go. I'm shorter than every client I've ever had, but I always put them above the wall ovens and can easily reach them.
To do this, I specify that the top of the ovens should be no higher than 5'-3" above the finished floor. You only need to reach the bottom corner to pull trays out, and the cabinet is likely at least 30-32" wide which is nice and spacious.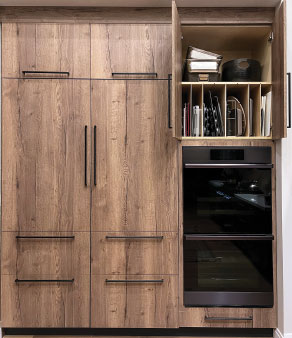 As mentioned above, you don't need drawers above every base cabinet door, but where you do have them, tell your builder you want the top drawer — even in a bank of three stacked drawers — to be no less than 6" tall in the kitchen or bathroom — and doublecheck the shop drawings to make sure they told the cabinetmaker. Most people don't even know to think about this, but it makes a BIG difference in making sure things like soup ladles, vitamin bottles and hairbrushes don't get stuck, and it extends the life of the drawer and handle.
5. Cabinet Accessories (My Favorites)
Blind Corner Pullout: My go to accessory for blind corners (those deep corner cabinets you can't get into) is the Rev-A-Shelf "Curve" preferably with two separate door faces so you can pull each level out individually for easier access. Just make sure you check the space requirements (I can help with that).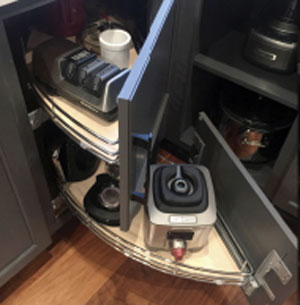 Trash/Recycle: The Rev-A-Shelf dual 50 quart unit fits in an 18" wide cabinet, but my favorite if you have space is the 24" wide one with a place for the box of bags (SHOWN HERE). I like it best with the door face attached to the front as a "pullout" -- not a swing door.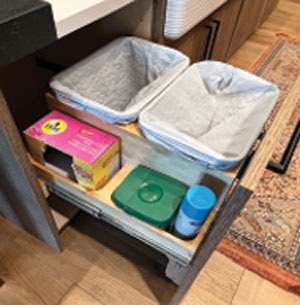 Knives/Large Utensils: The Rev-A-Shelf 11" utensil/knife block pullout has a built in knife accessory plus large utensil holders. (Don't tell my mom, but we got this so we could hide the good knives from her -- the knife block on the counter with the not-quite-as-good knives is a decoy). If you have a family member who tosses the good knives into the sink and breaks the tips, you'll understand.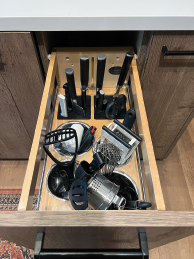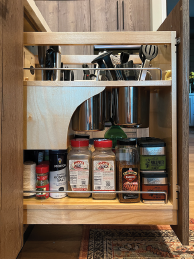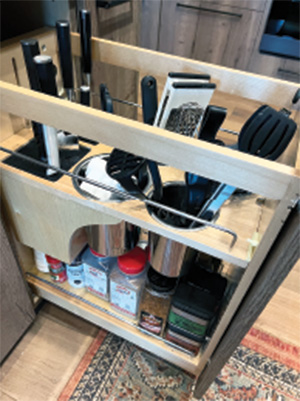 There's so much more, but these are some of the things you want to call out early in the design phase. I hope you find them helpful "someday." If you or anybody who sees this has any questions, we're happy to do mini 1-hour phone or Zoom consultations @ $225/hour.
It's really just about making your remodel investment make the most sense.